Gas and electricity prices have shot up recently, but gas prices have gone up more than electricity prices have. As a result, a well designed heat pump system should be significantly cheaper to run than a gas boiler.
The math
Whether or not you save money when you switch depends on the price of electricity vs. gas, on the efficiency of the system, and on whether you stop using gas completely. Under the Energy Price Guarantee electricity costs about 3.3 times more per kWh than gas does. That means that, to get a saving on the 'per unit' piece of your bill, your heat pump needs to be 3.3 times more efficient than a gas boiler. If your gas boiler runs at an efficiency of 85%, then you would need your heat pump to run at an efficiency of 280%. This is very achievable, even with a pretty average heat pump install. If you stop using gas altogether than you also save a significant amount on the gas standing charge - currently 28p a day, or £102 a year, and so your heat pump only needs to achieve an efficiency of 260% to break even. A good heat pump running at a flow temperature of 50C will achieve an efficiency of about 350%, leading to significant savings (~£350 a year compared to a gas boiler running at 85% assuming a heating demand of 10,200kWh and assuming you disconnect from the gas network). The graph below how much you would save in that same home based on a variety of heat pump and gas boiler efficiencies.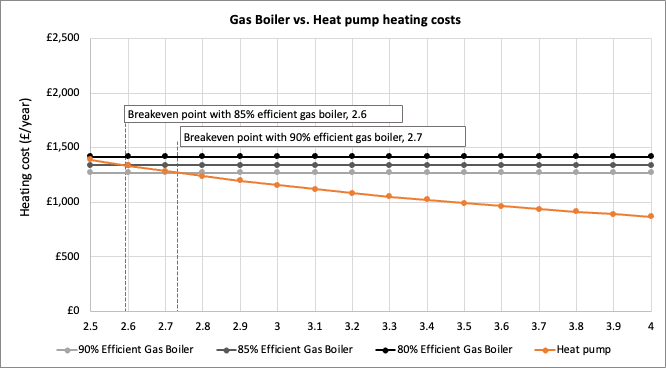 Cost to provide 10,200kWh of heating at the Energy Price Guarantee rates (34.0p/kWh for electricity and 10.3p/kWh for gas) at different heat pump and gas boiler efficiencies.
Maximising efficiency
This relationship means that you want to maximise the efficiency of your heat pump. The more efficient your heat pump, the lower your bills will be and the bigger your savings will be relative to gas. As we explained above, the lower the temperature of your radiators, the more efficient your heat pump. So to save money you want your installer to ensure that your heat pump can run at as low a flow temperature as possible. A heat pump running at a flow temperature of 40C can achieve efficiencies in excess of 400%.
Harnessing flexibility
There are number of ways you can reduce the price you pay for electricity. On a flexible tariff such as Octopus Agile the electricity rate varies half-hourly. This means that you can, to some extent, shift your heat pump's operation to lower cost hours. Installing a battery and/or a large hot water cylinder enables you to make better use of these fluctuations. Installing solar photovoltaics means that you also generate your own electricity for free. While your solar generation won't perfectly match your heat pump's electricity use, solar plus a battery plus a heat pump is a fantastic combination for lowering your bills.
Future proofing
It is hard to predict what gas, oil and electricity prices will do in the coming years of course, so we cannot be sure what the bill impact will be over the life of the heat pump. However the governement's Energy Price Guarantee means that the rates mentioned above are locked in for two years. If government restructures the electricity market so the marginal unit doesn't set the price, or adds a carbon price on natural gas, then electricity rates will fall further relative to gas rates. In any case, maximising the efficiency of your heating system will always be a good idea.